Memphis Jewish Home & Rehab's Rich Non-Profit History
Since 1927, Memphis Jewish Home & Rehab has been invested in the health and happiness of everyone who enters its doors. Still rich with Jewish tradition, today MJHR serves people and families of all faiths who are seeking physical, occupational and speech therapy treatment as well as residents who are no longer able to care for themselves and are seeking long-term care. In all cases, MJHR delivers excellent care with compassion, dignity, and commitment.
Beginning as the B'nai B'rith Home for the Aged, MJHR was originally located at 131 No.Tucker Street in Midtown Memphis. MJHR became its own nonprofit organization in the 1950s, independent of the B'nai B'rith organization. By 1967, the old building was completely replaced with a new modern facility.
In 1992, the facility moved to its current location in Cordova and became Memphis Jewish Home. MJHR added a state-of-the-art rehab facility in 2008 and became known as Memphis Jewish Home & Rehab. Located in a 77-acre park-like setting, the facility with its new addition now has 169,000 square feet of space with 160 beds, all within a warm, welcoming setting.
It's because of the generous support of the community that MJHR can provide the highest level of care as well as build the new state-of-the-art addition. MJHR is indebted to a dedicated group of volunteers and donors. Funding is provided by Memphis Jewish Federation, United Way of the Mid-South, local foundations, and many individuals who are partners in our mission to care for seniors.
Hundreds of supporters have already given to the Renewing Strength Restoring Confidence Capital Campaign to build the $7.5M addition. Money is still being raised to buy even more specialized equipment. Contact Joel Ashner at 901-756-3273 or jashner@memphisjewishhome.org for more information or to make a donation. Or donations can be made online at www.memphisjewishhome.org.
Renewing Strength. Restoring Confidence.
The Vision Is Now a Reality: Belz Family Foundations Rehabilitation Facility
The needs of Mid-South seniors are very different than they were even 10 years ago. More seniors are seeking rehab services after an illness, injury, or surgery than ever, and so the demand for top rehab programs is more prevalent. The excellent staff has been at MJHR to deliver rehabilitation services and provide patient-centered care, but the spaces they worked in were not ideal. There became a need for more space and more specialized equipment, thus the idea of an expansion began. Now MJHR rehab staff have the best tools and facility to help them continue their vital work.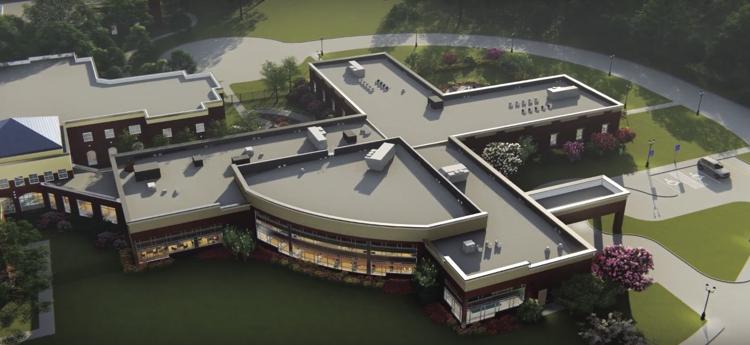 MJHR remains committed to providing high quality care that exceeds the "minimum" governmental standards, which sets them apart from many other facilities. With the construction of the rehab expansion, they have truly created a leading edge rehabilitation facility.
As a leader in the skilled nursing care community, they have a responsibility to respond to the needs of today's and tomorrow's seniors. Each year they care for over 1,000 seniors so they have a responsibility to provide the best care and facility possible.
With help from several foundations and many generous individuals in the community, MJHR ran a $7.5 Million fundraising campaign to build this approximately 24,000-square foot addition to the building. Named the Belz Family Foundations Rehabilitation Facility, the new addition is home to the largest rehab gym for seniors in the Mid-South, an aquatic therapy center, Activities of Daily Living suite, and a 16-room patient wing.
Providing more space for therapy
The Judy & Larry Moss Rehab Gym is a space built specifically with seniors in mind. Unlike MJHR's previous physical and occupational therapy gyms, which were separate spaces built originally for other purposes, this new space is much larger and will foster collaboration between the therapy disciplines. In addition, there is an outdoor therapy garden.
Aquatic Therapy comes to MJHR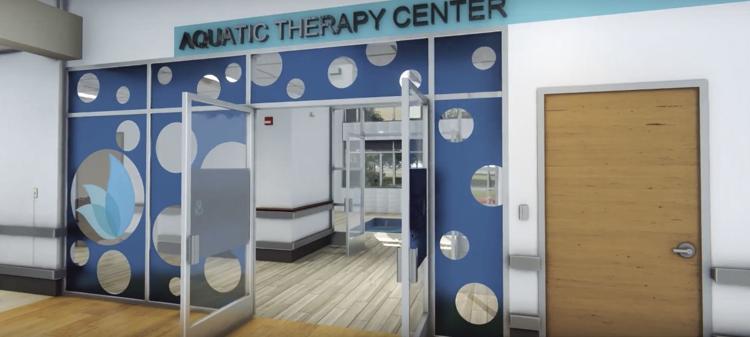 The Plough Foundation Aquatic Therapy Center is home to a HydroWorx Model 2000 therapy pool. The pool is equipped with an underwater treadmill and video monitoring system as well as a floor that raises and lowers for easy entry and exit. It is large enough to hold two patients and two therapists at one time.
Private rooms for all rehab patients
The 16 new patient rooms and conversion of existing downstairs double rooms to private rooms, enable all patients coming for rehab at MJHR to have a private room. The 16 new rooms also have roll-in showers. On the patient wing are two spaces for families to visit with patients as well as an outdoor garden area with a fountain.
Providing the best in care and environment promotes healing
Their commitment to caring for seniors has existed for 92 years. As their services have evolved with the needs of Mid-South seniors, they have remained committed to doing all they can to help seniors be as independent as possible. Whether they are there for a short stay for rehab or years for long term care, Mid-South seniors deserve the best care MJHR can offer.
What Makes a Top Rehab Facility
When you or a loved one is in the hospital following an illness, injury or surgery, the physician will often recommend inpatient rehab to help get you back on your feet. If you have a planned surgery, take time to check out your options before surgery. If your hospital stay is unexpected, ask a family member or close friend to do the legwork for you.
Beautiful lobbies and new buildings are nice to have, but they should not be the only things you look for when evaluating a rehab program. Be sure to check the facility ratings on Medicare's Nursing Home Compare website. Ratings range from one to five stars. This will help you narrow down your choices. Memphis Jewish Home & Rehab has five stars.
Look for a variety of equipment specifically designed for seniors and space to move around in order to practice walking. Watch how the therapy staff interacts with patients if you are there when therapy is in progress.
Checking websites to see if there are photos or virtual tours is fine, but there is no substitute for visiting the facility and talking to the people you see when taking a tour. Ask questions of your tour guide. Watch how other staff are treating the patients as you walk through the building. Make sure the rooms are clean and comfortable and the rehab area has plenty of space. Ask how often patients get therapy and whether family is allowed to come observe. Ask how your progress is communicated to you and your family. MJHR welcomes anyone to stop by for a tour any time. There's no need to make an appointment.
You should also ask your doctor where he/she recommends that you go for rehab. The doctor will probably have had patients who have given feedback on their experiences. Ask friends and coworkers if they have had any experience with a particular facility.
Rehab at a skilled nursing facility like Memphis Jewish Home & Rehab can be quite beneficial to your recovery. Look for someplace with a warm and comfortable environment that also has the professional staff and equipment that will help you regain the strength and agility you need to reach your goals and get back home.
For more information on skilled nursing facility ratings, see the Medicare Nursing Home Compare website, at: http://www.medicare.gov/nursinghomecompare/search.html.
Plough Foundation Aquatic Therapy Center Will Contribute to Positive Outcomes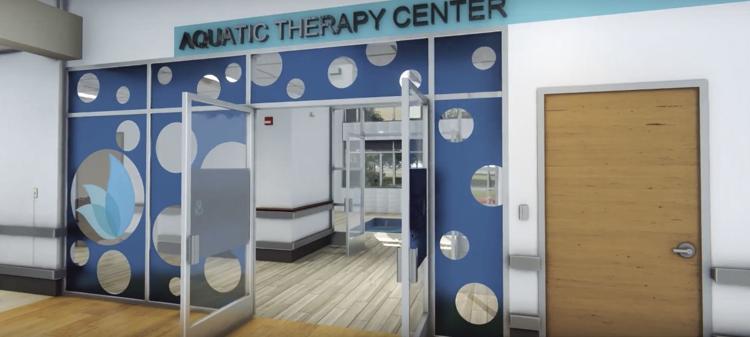 The benefits of aquatic therapy for seniors are numerous so Memphis Jewish Home & Rehab is thrilled to add this service to their therapy program. The pool they have purchased comes with the needed features to provide a high-quality aquatic therapy program for patients including an underwater treadmill and video monitoring capabilities enabling the therapist to evaluate the patient's progress more easily and in real time.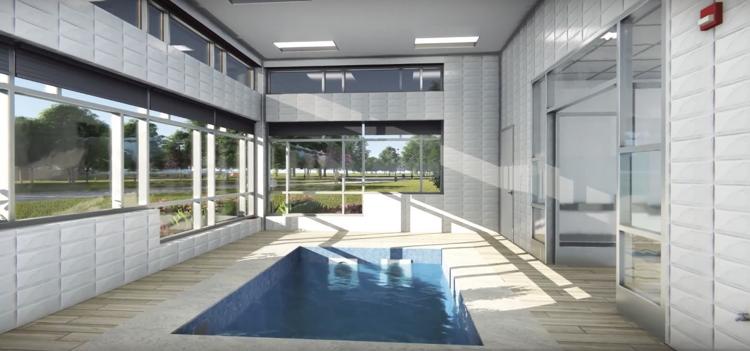 With aquatic therapy, there is a natural resistance from the water to help seniors exercise without the risk of falling. Warm water can increase flexibility, giving seniors the ability to do things in the water that they might not be able to do on land. There is less impact on the joints due to a lighter body weight in the water as well. The water also benefits seniors who suffer from arthritis or other problems with their joints. In addition, aquatic therapy uses hydrostatic pressure to decrease swelling in joints and soft tissue.
When plans began for MJHR's rehab expansion, aquatic therapy was always a priority because of the benefits it can provide to patients in addition to positive outcomes and patient satisfaction. The psychosocial benefits are also numerous. Aquatic therapy can reduce stress and anxiety and boost a senior's confidence in their abilities.
The Plough Foundation Aquatic Therapy Center also includes a full bath with roll-in shower, and a men's and a women's changing room. The pool can hold two therapists and two patients at one time and is the largest pool available in the Mid-South for seniors to use for rehab.
Judy & Larry Moss Rehab Gym
Memphis Jewish Home & Rehab now has the largest gym for rehabilitation services in the Mid-South. The Judy & Larry Moss Rehab Gym is not only very large, but it includes a multitude of features to help seniors work hard in their physical, occupational, and speech therapy sessions. A walking track with measured distances circles inside the gym. Three private speech therapy rooms can be found right off the gym, as well as three private treatment areas with upholstered mat therapy tables that raise and lower.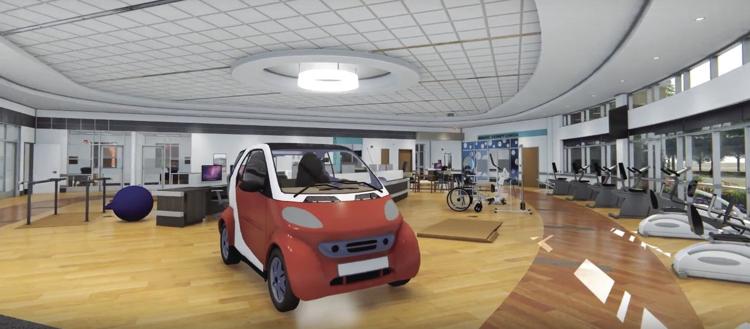 New state of the art equipment has been added to MJHR's inventory because of the additional space available in this much larger area for therapy. A completely furnished and fully operational Activities of Daily Living (ADL) suite is also off the Moss Rehab Gym. Much like a mini apartment, the ADL suite is for patients to practice what it will be like to go home and care for themselves before being discharged. Included is a fully functional kitchen, laundry and full bath with both a walk-in shower and tub.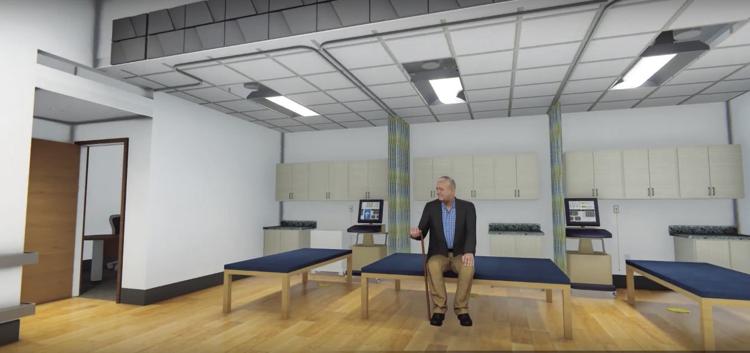 Before anyone is discharged from rehab, they and their family must go through car transfer training to make sure the patient can get in and out of a car safely. A Smart car (a very small electric car with a full size front seat) will be parked right inside the gym to use for this purpose.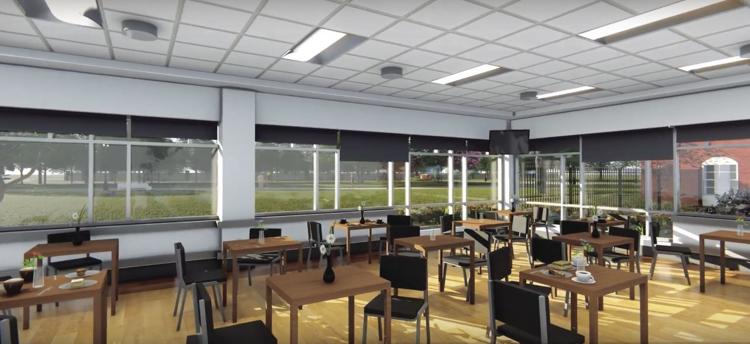 New Patient Wing
The new patient wing in the Belz Family Foundations Rehabilitation Facility will contain 16 rehab suites and two areas for visiting with family. Each suite has its own full bath complete with a roll-in shower. Rooms include a nice-sized closet and wall-mounted television along with the typical furnishings. Because many patients have come to rehab at MJHR while still working, a small desk is included in each room.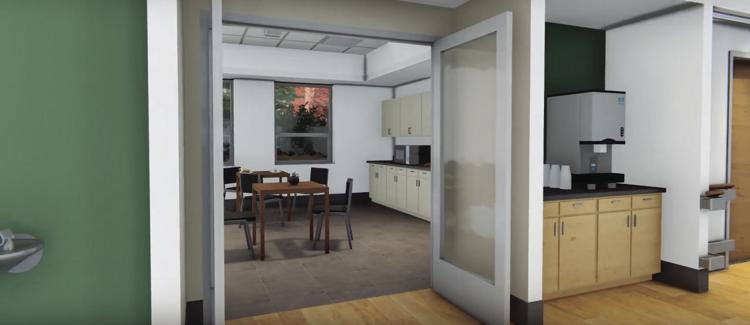 A family lounge is available with tables and chairs, a microwave and sink for gatherings or just relaxing. In addition, there is a computer lounge area with seating and computers for patient and family use.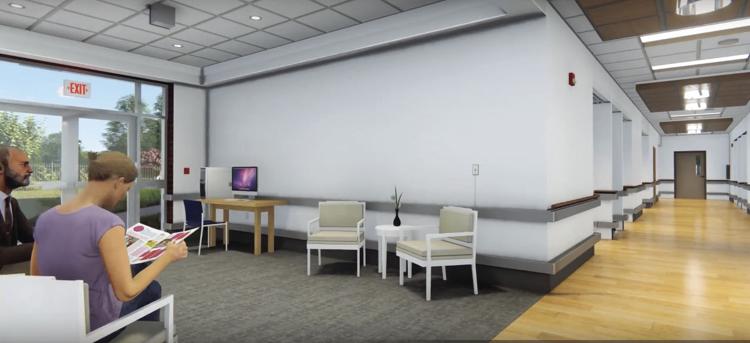 A popular feature will also surely be the fountain and garden for patients and families to enjoy the outdoors, located just outside the patient wing. MJHR is located in a park like setting, surrounded by trees and nature, setting it apart from most other rehab facilities.