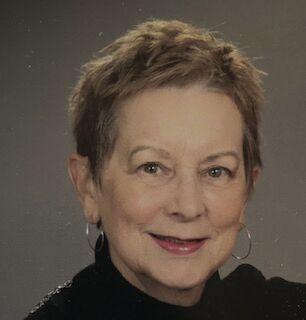 The first thing you notice are the colors. Sunset tones of orange and red and dramatic hues of midnight blue and purple. Early morning shades of pink and lavender and sunlit bursts of yellow and gold. These are the canvases of Collierville resident and artist Libby Anderson.
Libby's transition from art student to commercial artist to art teacher to accomplished painter was a long journey. A self-described Air Force brat, Libby grew up on bases around the country --Maine, Arkansas, West Tennessee and spent some time in England.
Her early interest in art earned her a BFA in painting from the Mississippi University for Women.
After a brief stint as a commercial artist, she went back to school and got a teaching degree for K-12. As a busy teacher, wife and mother, painting for pleasure took a back seat to the rest of her activities.
But in 2004, when Libby and her husband Bob retired to Collierville, she picked up her brushes and palettes and has not looked back.
Her stunning canvases of flowers and landscapes perfectly capture the glorious colors of nature. Her style is contemporary and vibrant. When asked if there was any one artist who influenced her, she said she followed the works of many of today's celebrated artists.
But, while living in Pennsylvania she took a number of workshops and classes in the Chadds Ford area. Those of you familiar with American art will recognize that as the home of the Wyeths. One family member, the late Andrew Wyeth, was one of America's most popular artists.
"Those classes sort of jump started my career," Libby said.
And perhaps a slight Wyeth influence can be found in her work.
Libby works in acrylic and oil and her paintings have been shown in several spots around the Memphis area such as the Memphis Botanic Garden, the Memphis/ Germantown Art League, Artists Link and as far away as the Jessel Gallery in Napa, California.
Retirement has not stopped this energetic woman, but rather has given her a new incentive to indulge her passion for art.
"As long as I can hold my arm up, I can paint," she said.
Retirement is just a word and if anyone exemplifies reinventing yourself after retirement, Libby is a good example.
She even embraces all of the new technology about which many retirees balk. Her work is sold via an internet site and she has shipped paintings to places as far flung as Ireland and Australia.
She spends two to three hours a day on painting and then devotes some time to the business side of her art. She said she never feels limited by her age and moving into this technological world has been a boon to her business.
With her typical sense of humor, she noted that "Doing business online has many benefits. In addition to making my work known worldwide, nobody knows how old I am! I can sell to 30-somethings or people older than I am, but as an artist, I'm not defined by my age."
That seems like a brilliant quote to sum up the life of this talented and colorful lady. Retirement should not stop anyone from pursuing a passion. Just look at the colors of Libby Anderson and you will see.
Joyce Miles will be writing an occasional column about mature adults who live colorful lives in retirement or during later years. Colorful lives could include people following their passions, acting on novel ideas or pursuing something unusual. Contact her if you or someone you know lives a colorful life and would like to share the experience. Email her at joycekmiles@gmail.com