If you don't know who "Miss Clarene" was, you haven't lived in Collierville for very long.
Clarene Pinkston Russell was Collierville's Town Historian.
She wrote a book, "Collierville, Tennessee: Her People and Neighbors," in 1994 that is a compilation of years of research and collecting documents, pictures and other artifacts from the past.
And Miss Clarene did more than look at other people's memories – she was an extremely active part of Collierville's history from the time she moved here at 13 in 1939 until her passing on May 13, 2022.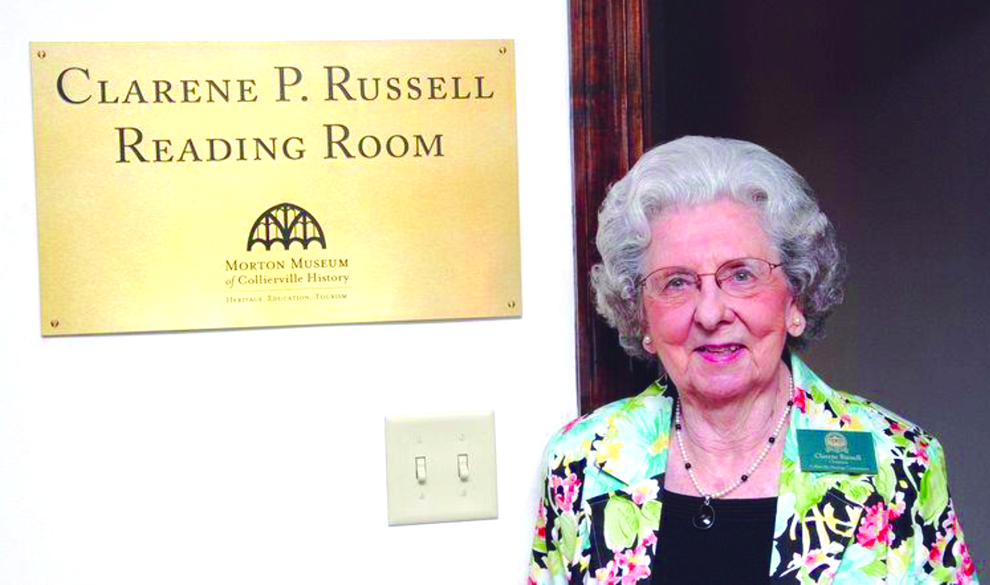 The Morton Museum will have a collection of Miss Clarene's research and artifacts on exhibit from May 2 through Aug. 12. The "Clarene Russell Collection" is the largest donation of artifacts the Morton Museum has ever received.
Its inclusion at the museum will give longtime residents a chance to remember Miss Clarene, her work and her friendship, and give visitors a chance to learn how a small-town history is lovingly compiled.
Collections and Special Projects Coordinator Chandler Tait is in charge of the exhibit and is focusing on showing the Town much the way Miss Clarene did in her book.
The book is broken into chapters such as A Trade Center, Memorable Events and Town Government. Tait is organizing artifacts into similar categories, as well as including pictures and letters from two Collierville families, the Halles and the Revels.
The museum will hold an opening reception for the exhibit on Tuesday, May 9, from 5-7 p.m.
No reservation or admission fee is required, so please come and enjoy viewing this very special exhibit with others.